How it all began…
The Steeleigh journey really began back in 1989. After the death of my beloved lab Shamrock, we all felt the absence of a dog in the house terribly and after a few months my husband agreed that we could buy a puppy to give me the chance to fulfil a long held ambition to show dogs as a hobby. The result was the unforgettable Lawvalley Holly, known to us simply as Holly.
All who met her will know that Holly was a unique Labrador! She was possessed with an overwhelming exuberance that made our few outings in the ring memorable to say the least! Sadly she was also beset by several serious health problems, chief of which was the bone disorder OCD. By the time she was a year old she had had to endure 3 major operations and we had been told by the vet that she was unlikely to live to see double figures, but she defied the odds living to 12 ½ only cruelly losing her life due to a pyometra . A life of showing would be impossible for her.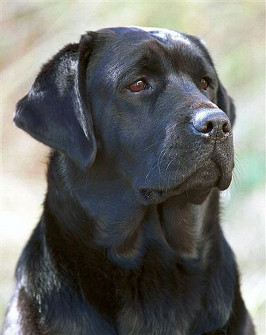 Although we all adored Holly, this was a very disappointing start to my show career and I might have lost heart had I not been put in touch with Brian and Audrey Hayward at the Donacre kennel in Surrey.
Under their guidance, for which I will always be grateful, I had a second bite of the apple and the result this time was the lovable little black bitch, Donacre High Dance – Bramble at home – who came to join us in the autumn of 1990.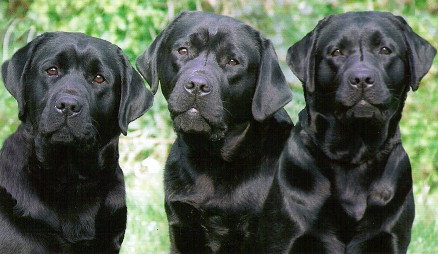 Bramble's show career took a far more promising turn than had Holly's and she was soon picking up cards and rosettes on a regular basis. She was also a delight to live with and she and Holly became firm friends. A little over a year later I decided to add to the brood and brought home my second Donacre bitch, Donacre High Antics, the one and only Cherry.
Cherry too acquired a winning way with a gundog puppy group win and RBPIS. She was also my first dog to qualify for the hallowed green carpet of Crufts! I had well and truly been bitten by the showing bug! My next dream was to produce puppies of my own and in June 1993 I fulfilled this ambition when Bramble produced a bumper first litter of nine gorgeous black pups.
Steeleigh in Surrey…
This litter was to be the first registered with my newly acquired affix Steeleigh – a combination of my now ex husband's and my Christian names, and from it I was blessed with my dog of a lifetime Barney Rubble – Steeleigh Black Magic. Ironically he was not the pick of litter for showing and only stayed with us after having had an intussusception at 5½ weeks and nearly dying. At one point he was only one third of the weight of his litter brother (the original Black Magic). He was originally my husband's pal but to everyone's surprise, by the age of 6 months he had fully recovered and more, making an unplanned debut in his brother's place, winning his first huge puppy class and getting down to the last four for BPIS – and all this without any ring training whatsoever! At this point my ex husband and I did a deal and the original Black Magic became his pal (still known at home as Magic), while Barney became my star boy. His fantastic achievements included his junior warrant. RBIS at Doncaster C.S. Open show, BIS at Melton Mowbray C.S. Open show and BIS at KSS Labrador Retriever Club Open show.
Moving to the Midlands…
Having searched for nearly 4 years for a suitable boarding kennels, I made the move to Wispytufts in the Midlands in November 1994 – with Black Magic still a junior. Soon after moving Bramble produced a second litter of nine black babies. The following year Cherry had a hand at motherhood and although never matching the quantity of Bramble (a litter of 5), certainly produced the quality as this litter contained my golden goose, the one and only Simply Classic.
As with Black Magic, Simply Classic had the lot. She was the ultimate showgirl, a superb producer, and the most classic Labrador to live with. The ultimate event was the mating of Black Magic to Simply Classic, for which I had to wait nearly another 3 years. This resulted in the birth of Worth a Gamble and Worth the Wait – the first totally home bred Steeleigh litter. Brother and sister Tucker and Pebbles together are the most wonderful testament to their very special mother and father. Tucker became my first double Reserve CC winner while Pebbles herself later went one better, producing two fabulous litters, including the only Steeleigh Champion (so far!) my fabulous Star Performer in her first litter & the Dual CC winner Truly Willing in her second.
What Drives Us
The Future
I now feel I have truly established my own recognisable type and have high hopes that the latest generation of Steeleigh labs will go on to bigger and better things!
Watch this space!